African-American Religion: A Documentary History Project
Continental Phase
Sample Documents
African-American Religion
A Historical Interpretation with Representative Documents

"Where Katy Lived, the Whole Aspect of the Neighborhood Was Changed": Lewis Tappan's Obituary for Catherine Ferguson (1854)
(Working Draft, January 2003)


Copyright notice: Excerpted from African-American Religion: A Historical Interpretation with Representative Documents, edited by David W. Wills and Albert J. Raboteau (emeritus), to be published by the University of Chicago Press. ©2006 by the University of Chicago. All rights reserved. This text may be used and shared in accordance with the fair-use provisions of U.S. copyright law, and it may be archived and redistributed in electronic form, provided that this entire notice, including copyright information, is carried and provided that the University of Chicago Press is notified and no fee is charged for access. Archiving, redistribution, or republication of this text on other terms, in any medium, requires the consent of the University of Chicago Press.

Introduction
When Catherine Ferguson, a New York City black woman devoted to Christian education and the care of orphans, died in 1854, her death prompted the document that follows, an obituary written by Lewis Tappan, the eminent evangelical antislavery activist.1 He tells the story of a child born a slave, her mother sold away by their New York master, a child who early on seeks both her freedom and admission to the church, and having gained both devotes her long life to caring for neglected children and teaching religion while earning a living as a cake maker. Tappan also says she was the first person to have founded a Sunday school in the city. This obituary led to further recognition.
A biography and portrait of her appeared in a book published the following year, Benson J. Lossing's Our Countrymen, or Brief Memoirs of Eminent Americans, which was reprinted many times up through 1891.2 Her inspirational life was also published by the American Tract Society under the title Katy Ferguson; or What a Poor Colored Woman May Do.3 In 1907 Horace G. Miller, the pastor of the black Presbyterian Mt. Tabor Church in New York, wrote a letter to the New York Age extolling Catherine Ferguson's life, saying that Ferguson organized the first sabbath school in Manhattan in 1793, relating plans to build a religious center in her honor, and seeking funds from both whites and blacks for the project.4 In 1920, in a textbook on the history of education in the United States, Ellwood P. Cubberley says that in 1793 "Katy Ferguson's 'School for the Poor' opened in New York," but provides no documentation for the assertion.5 That she was the first to start a Sunday school in that city was once again claimed in a 1923 issue of the Southern Workman, in the title given to a recollection dating from some years before 1909; the recollection does not itself make the claim.6 In 1926 the claim was renewed in a collection of biographies of black women compiled by Hallie Q. Brown, a president of the National Association of Colored Women, and again in the 1993 Black Women in America: An Historical Encyclopedia.7
Tappan's obituary, based on an interview he had had with her four years before, on the precise date of March 25, 1850, appeared first in the New York Daily Tribune on July 20, 1854. He then put it in the August issue of the American Missionary with two revisions, changing her early street address to 51 Warren Street rather than 52 and age at death to 80 rather than 75, which by extrapolation gives a birth year of 1774 rather than 1779. Nothing written about Ferguson while she was still alive has yet been found to corroborate or amend his story, so his and others' claims about her life and particularly the dates of its events have not been verified. Nevertheless his account is credible. Tappan was more likely than many to be reliable: his business profession of establishing credit ratings was the first of its kind and highly respected, and his carefully maintained journals and letterbooks testify to his orderly ways. Support for the story comes from Benson Lossing's having included, in his brief biography of Ferguson, a recollection by Isaac Ferris, chancellor of New York University, that while a theological student he used to come to Ferguson's rooms to help instruct the students in her Sunday school.
Catherine Ferguson's life, whether begun in 1774 or 1779, parallels a period in New York City's history that dates from its devastation during the Revolutionary War, a war that left it a "ravaged and partially destroyed seaport town," as historian Raymond Mohl says, its population confined to the lower tip of Manhattan, a city which then rapidly expanded in area and especially in population over the first half of the nineteenth century. It became a city of immigrants, both from elsewhere in the nation and from abroad, and this quick increase in population produced challenging problems with poverty on a much greater scale than before. Coping with this poverty entailed traditional methods like maintaining an alms house or taking food and wood to people in need, but also an array of new approaches including those emphasizing Christian education. Sabbath schools, whose initial focus was secular, teaching children and adults to read and meeting on the Sundays because that was the day when such students were available, soon turned into Christian Sunday schools, emphasizing study of the scriptures. The more secular training was done in the new Lancastrian schools, following an English technique for instructing very large groups of poor children with the aid of older students.8
In several respects, Ferguson's social welfare interests paralleled those of the family that bought her freedom, Isabella Graham and daughter and son-in-law Joanna and Divie Bethune, prospering immigrants from Scotland and leaders in benevolent causes. All were concerned about orphans, untended children, and poor children and adults who did not attend church, both blacks and whites alike.9 Graham came to New York in 1789, a widow who supported herself and her children by establishing a private school for girls. She joined what was known as the Scotch Presbyterian Church, then a congregation of the Associate Reformed Presbyterian denomination, as did Divie Bethune, who arrived in 1792 and became a wealthy merchant. (The Associate Reformed Presbyterian Church was created in 1782 by a merger of some of the American congregations of the Associate Presbytery and the Reformed Presbytery, small Scottish denominations representing the "Seceder" and "Convenanter" traditions respectively. In 1822, Associate Reformed churches in the Northeast, including New York City, joined with the General Assembly of the Presbyterian Church.) It was in 1789 that Catherine Ferguson also joined this same Scotch Presbyterian Church at age fifteen.10 She then, according to Tappan's account, gained her freedom at age sixteen or seventeen, in 1790 or 1791 (assuming a birth year of 1774), and might have worked for Isabella Graham.11 When Ferguson married at age 18 (perhaps in 1792) and had two children, the time corresponded to the 1797 start of Graham's first charitable enterprise, the Society for the Relief of Poor Women with Small Children. According to Tappan, Ferguson soon lost her children and presumably her husband as well, as no further mention of him appears, and perhaps she became involved with this society as either a client or a distributor of food and clothing.
While 1793 seems early for Ferguson to have begun a Sunday school, there is evidence that Isabella Graham began such a school with her daughter in 1803 to teach reading and writing and give religious instruction.12 In 1804, when the Society for the Relief of Poor Widows with Small Children purchased a house, a room was reserved for teaching the children.13 Graham went on to found or help found the Orphan Asylum Society in 1806, the Magdalen Society in 1811, the Society for the Promotion of Industry Among the Poor in 1814, and a Sunday School for adults just before her death in July 1814. Her daughter continued her work. Divie Bethune was also connected with the Humane Society, founded in 1787, involved with many other benevolent causes, on his own imported bibles from England for distribution to the poor, and in 1812 helped found the Society for Supporting the Gospel Among the Poor of the City of New York. Early in 1816 Joanna and Divie Bethune reported they had a school for black adults taught by their family along with the many others formed by the Female Union Society for the Promotion of Sabbath Schools, which Joanna Bethune helped organize.14
Catherine Ferguson's involvement in these organizations is not confirmed, but as Allen Hartvik suggests, she might well have assisted with the sabbath school held at their Murray Street church, a congregation of the Associated Reform Church denomination, organized under the leadership of John Mitchell Mason in 1810.15 In Tappan's obituary, this sabbath school actually began at Ferguson's home, and was moved to the church after its minister John Mason discovered what she was doing. For all four of them the connection between religious faith and charitable work was very close, the work a manifestation of the faith. The societies formed may have been interdominational, in the sense of including members from various Protestant churches (Elizabeth Seton, then still an Episcopalian, worked with Graham at the Society for the Relief of Poor Widows, later converting to Roman Catholicism and canonized in 1975) but hardly secular.
If Ferguson was part of the city's story of coping with poverty, both as subject and helper, she was also, apparently, part of an independent black self-help movement. As her story suggests, she on her own would see a need and address it. Though Graham and the Bethunes seemed to have formed organizations that dealt with both blacks and whites, it appears that Ferguson worked not only with them but also independently of them. There are many other contemporary examples of blacks who worked both in collaboration with whites but also independently.
One concerns another black Presbyterian, John Teasman (1754–1815), who was hired in 1797 by the New York Society for Promoting the Manumission of Slaves to teach at its African Free School. He and the white schoolmaster then added on a successful evening school for adults, and in 1799 he became principal. Robert J. Swan argues that the society's very tight control over the black students and their families, its penchant "to be the religious and moral guardian of the African race was crucial to the transition from black subservience to independence and self-reliance."16 In 1787 the Manumission Society's refusal to encourage a collateral black religious society became the catalyst for the formation of a separate black church, which then established its own schools. In 1808, when the new Embargo Act affected seamen and workers, John Teasman led the organization of the New York African Society for Mutual Relief; other blacks formed similar groups. Perhaps for this independent activity, Teasman lost his job a year later with the African Free School. He and his wife then created their own school. In 1810, when some members of the Presbyterian and Reformed Dutch churches in the city organized the Sabbath Society for Catechising Africans, they trained black children in the Westminster Shorter Catechism "in a school room in the rear of No. 7 Murray-street, occupied by Mr. Teasman, a pious descendant of Africa," who warmly supported the society and frequently took part in its work.17 No direct connection between Ferguson and Teasman has been found, but it seems likely they would have known each other.18 Both seem to have worked both independently and in collaboration with the white benevolence movement.
Tappan's account, like the others of the time, says little about Ferguson's life in the three decades after the eighteen-teens. Evidently, she was busy taking care of children in need as well as making cakes for sale and conducting her prayer meetings. By 1850 she was interested in Tappan's American Missionary Association and the missionaries who went to Africa. But her influence remained local. Shortly after she died, Tappan made an entry about her in his journal. "[July] 21st. Went to the late residence of Katy Ferguson to look over a barrel of pamphlets she left. By permission took away a few. A little girl in the neighborhood came in & said, 'Please give me a book to remember Aunt Katy by.' I gave her a small book."19
Notes
1. While the Tribune obituary is signed simply "L.T." his authorship can be established in Lewis Tappan's diary: "Wrote, a few days since, an obituary of Catharine Ferguson for the Independent. It did not appear in that paper this week. Took a copy to the Tribune & it was inserted." Lewis Tappan, journal entry, July 21, 1854, in journal for July 1, 1853–April 18, 1855, p. 226, The Papers of Lewis Tappan, 1809–1903, microfilm, reel 2, fr. 198, Manuscript Division, Library of Congress, Washington, D.C. A clipping of the obituary accompanies the entry. A two-sentence notice of her death had first appeared in the New York Times, July 13, 1854, p. 8, noting the funeral was scheduled for that same day. [return to text]
2. "Catherine Ferguson," in Benson J. Lossing, Our Countrymen, Or Brief Memoirs of Eminent Americans (Philadelphia: Lippincott, Grambo, 1855), 404–405. Reprint information is based on entries in the website OCLC FirstSearch, as of 7 January 2003. [return to text]
3. The tract was anonymously written, published by the Tract Society in Boston, no date provided. Ferguson was also recognized in an 1856 biography of her early pastor, John Mitchell Mason, the information evidently based on Tappan's obituary: Jacob Van Vechten, Memoirs of John M. Mason, D.D., S.T.P. (New York: Robert Carter & Bros., 1856), 67. [return to text]
4. Horace G. Miller to Editor, New York, April 2, 1907, "Catherine Ferguson's Work To Be Fittingly Commemorated," New York Age, April 11, 1907, p. 2. Miller's church connection is described in Theodore Fiske Savage in his The Presbyterian Church in New York City (New York: Presbytery of New York, 1949), 179–80. According to Savage, Mt. Tabor Church dissolved in 1912. What became of the project is not known. [return to text]
5. History of Education, Educational Progress Considered as a Phase of the Development and Spread of Western Civilization (Boston: Houghton Mifflin, 1920), 659. This claim is repeated in Savage, Presbyterian Church in New York City, 58, and in Edwin G. Burrows and Mike Wallace, Gotham: A History of New York City to 1898 (New York: Oxford University Press, 1999), 384. [return to text]
6. Mrs. John W. Olcott, "Recollections of the First Sunday School in New York City," Southern Workman 52, no. 9 (September 1923): 463. Another article from this journal concerns a home for black unwed mothers established in New York City in 1920 and named for Ferguson: William E. Clark, "The Katy Ferguson Home," Southern Workman 52, no. 5 (May 1923): 228–30. [return to text]
7. "Catherine Ferguson 1749(?)–1854 Founder of the First Sunday School Movement in New York City," in Homespun Heroines and other Women of Distinction (Xenia, Ohio: Aldine, 1926; repr. New York: Oxford University Press, 1988), 2–4. This account cites Elwood Cubberley's 1920 reference to Katy Ferguson's School for the Poor opening in 1793, noted above. Audreye Johnson, "Ferguson, Catherine (Katy) (c. 1774–1854)," in Black Women in America: An Historical Encyclopedia, ed. Darlene Clark Hine, Elsa Barkley Brown, Rosalyn Terborg-Penn (Bloomington: Indiana University Press, 1993), 1:426. [return to text]
8. A clear account of the city's poverty is Raymond A. Mohl, Poverty in New York 1783–1825 (New York: Oxford University Press, 1971); the quoted passage is on p. 52. On the history of sabbath and Sunday schools, see Anne M. Boylan, Sunday School: The Formation of an American Institution 1790–1880 (New Haven: Yale University Press, 1988). [return to text]
9. Isabella Graham (1742–1814) had lived in Canada as a young wife of a physician then moved to Antigua; in each location she took a personal interest in the Indians or blacks around her. Her future son-in-law Divie Bethune (1771–1824) also lived for a time in the West Indies, in Tobago. Her daughter Joanna, in recounting her struggle with religious faith, remembered envying a black man in the garret overhead who seemed happy singing hymns. On the Graham/Bethune family see: The Unpublished Letters and Correspondence of Mrs. Isabella Graham, From the Year 1767 to 1814 . . . , ed. Joanna Bethune (New York: John S. Taylor, 1838); The Power of Faith, Exemplified in the Life and Writings of the Late Mrs. Isabella Graham, new ed. (New York: American Tract Society, 1843; repr. New York: Garland, 1987); George W. Bethune [son], Memoirs of Mrs. Joanna Bethune (New York: Harper & Bros., 1863), 69, for story of the black man singing hymns; "George W. Bethune," in Henry Fowler, ed., The American Pulpit: Sketches Biographical and Descriptive, of Living American Preachers . . . (New York: J. M. Fairchild, 1856), 389–400; Abraham Rynier Van Nest, Memoir of Rev. George W. Bethune (New York: Sheldon, 1867). [return to text]
10. Savage, Presbyterian Church in New York City, 200–201. Savage, who may have had access to the records of the Scotch Presbyterian Church, which in 1917 became the Second Presbyterian Church, provides this date and age at which Ferguson joined, lending support to her birth year as 1774. He also relates the story of Ferguson fearing she would not be allowed to join the long communion table in the center aisle and the pastor John Mason coming down from the pulpit and leading her by hand to her place there. He views this event as Dr. Mason's way of "making clear to his congregation there was to be no color line" (p. 200). Since the church had a separate gallery for blacks, according to Savage's description of the building (p. 199), Ferguson's fear of exclusion was reasonable. [return to text]
11. So speculates Allen Hartvik in his article, "Catherine Ferguson, Black Founder of a Sunday-School," Negro History Bulletin 35, no. 8 (December 1972): 176–77. [return to text]
12. Power of Faith, 228; Boylan, Sunday School, 1988), 9. [return to text]
13. Dorothy G. Becker, "Isabella Graham and Joanna Bethune: Trailblazers of Organized Women's Benevolence," Social Service Review 61, no. 2 (June 1987): 319–336, 325–26. [return to text]
14. Mohl, Poverty in New York, 135, 148, 193–94. Isabella Graham (1742–1814) herself had been a widow with small children when her husband died in 1773: see her entry in Dictionary of American Biography, 7:474–75, on this and the societies she supported. See also John Carroll Power, The Rise and Progress of Sunday Schools: A Biography of Robert Raikes and William Fox (New York: Sheldon, 1863), 262–66. On the Female Union Society, see Page Putnam Miller, "Women in the Vanguard of the Sunday School Movement," Journal of Presbyterian History 58, no. 4 (Winter 1980): 311–25. [return to text]
15. Hartvik, 177. [return to text]
16. Robert J. Swan, "John Teasman: African-American Educator and the Emergence of Community in Early Black New York City, 1787–1815," Journal of the Early Republic 12, no. 3 (Fall 1992): 331–56, quoted passage on p. 340. [return to text]
17. "Sabbath Society for Catechising Africans," Christian's Magazine 4, no. 12 (December 1811), 681–83, quoted passage on p. 683. [return to text]
18. Murray Street, where Ferguson went to church, was just a block away from Warren Street, where she lived. According to Swan, "John Teasman," 351, in 1812 the Teasmans moved their school, sponsored by the Mutual Relief Society, several blocks uptown; it was known as the Walker Street Academy. [return to text]

19. Lewis Tappan, journal entry, July 21, 1854, in journal for July 1, 1853–Apr. 18, 1855, p. 226, in The Papers of Lewis Tappan, 1809–1903, microfilm, reel 2, fr. 198, Manuscript Division, Library of Congress, Washington, D.C. [return to text]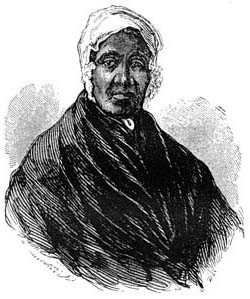 CATHERINE FERGUSON
Benson J. Lossing, Our Countrymen, Or Brief Memoirs of Eminent
Americans (Philadelphia: Lippincott, Grambo & Co., 1855), 405.

Document
[Lewis Tappan], "Catharine Ferguson," American Missionary 8, no. 10 (August 1854): 85–86, annotated clipping in Lewis Tappan's journal for July 1, 1853–Apr. 18, 1855, p. 299, in The Papers of Lewis Tappan, 1809–1903, microfilm, reel 2, fr. 238, Manuscript Division, Library of Congress, Washington, D.C. All rights reserved.
Died, on Tuesday, 11th instant, at her house, 74 Thompson street, Widow Catharine Ferguson, after a brief illness, aged about 80 years.1
The departure of this remarkable woman should be commemorated by an obituary notice worthy of such a mother in Israel, and such an active, life-long, Christian philanthropist. It is hoped that a memoir will be presented to the public. Thousands in this community have heard of or known Katy Ferguson, the aged colored woman, who, in more vigorous life was the celebrated cake-maker for weddings and other social parties. But many who have eaten her unrivalled cake, and been edified by her sensible chat or pious discourse, may be ignorant of the eminent virtues and extraordinary good deeds which crowned her life. It is due, therefore, to the cause of Christ, of philanthropy, and the people of color especially, that her distinguished services should be recorded. The facts contained in this notice were taken down from Mrs. Ferguson's own lips, March 25, 1850.
Katy was born a slave. Her mother gave birth to her on her passage from Virginia to this city. Katy Williams—for that was her name—was "owned" by R. B., who lived on Water street, and was an elder in one of the New-York City Presbyterian Churches. "R. B.," said Katy, "sold my mother away, but I remember that before we were torn asunder, she knelt down, laid her hand on my head, and gave me to God."
Katy never saw her mother again. Her mistress told her that if she was as good as her mother, she would do well. Katy felt keenly the loss of her mother. The recollection of her own anguish when separated from her, made her, she said, feel compassion for children. When ten years old, she told her master, R. B., that if he would give her her liberty, she would serve the Lord for ever. But he did not do it.
Katy was never taught to read. "My mistress," she said, "would not let me learn; and once she said to me, 'You know more now than my daughters.'" One of her mistress' sons asked Katy to teach him geography, etc. She exclaimed, "I can't!" He replied, "Yes, you can; if I don't read right in the Bible, or if I don't say my catechism right, you tell quick enough."
At fourteen years of age she was converted to God. When under conviction of sin she determined to go and see the Rev. John M. Mason, whose church she then attended. She was afraid to go, was unwilling it should be known in the family that she went, and tremblingly apprehensive that she could not get access to Dr. Mason, or that he would not pay attention to her. She, however, summoned resolution enough to go. "While I stood at the door ringing the bell," said she, "I can not describe my feelings; and when the door opened, and Dr. Mason himself stood before me, I trembled from head to foot. If he had spoken harshly to me, or had repulsed me, I should almost died of grief, and perhaps have lost my soul." But the good man did not speak harshly to her, nor repulse her. Stern and apparently haughty as he was on some occasions, yet he possessed kind and tender feelings, as the writer well remembers. He united two qualities that are never found united, except in truly great men, high intellectual power and strong emotional feelings. Without waiting for the little trembling colored girl to say any thing, Dr. Mason said, "Have you come here to talk to me about your soul?" This greatly encouraged her. She went in and disclosed to the venerable2 man the secrets of her heart.
When Katy was sixteen or seventeen years old, a lady in the city purchased her freedom for $200, giving her six years to reimburse her; but she afterwards agreed to allow her one half of the sum for eleven months' work, and the late excellent Divie Bethune raised the other hundred dollars.
At eighteen she was married. She had two children, but lost them both. "They are dead," said Katy, "and I have no relations now, and most of my old friends are gone."
During her life, she had taken forty-eight children—twenty of them white children—some from the alms-house and others from their parents, and brought them up, or kept them till she could find places for them. She expended much money on their behalf and followed them with affectionate interest with her prayers. To my inquiry, "Have you laid up any property?" she quickly replied, "How could I, when I gave away all I earned?"
When she lived at 51 Warren street,3 (the house has since been taken down,) she regularly collected the children in the neighborhood, who were accustomed to run in the street on the Lord's day, into her house, and got suitable persons to come and hear them say their catechism, etc.
The sainted Isabella Graham used to invite Katy's scholars to her house, to say their catechism, and receive religious instruction. This was about the time Dr. Mason's Church in Murray street was built. The doctor heard of her school, and one Sunday visited it. "What are you about here, Katy," said he; "keeping school on the Sabbath? We must not leave you to do all this." So he spoke to his elders, had the lecture-room opened, and the children transferred to it. This was the origin of the Sunday-school in the Murray street church, and it is believed that Katy Ferguson's was the first Sunday-school in the city.
For more than forty years, up to the last of life, she has had a prayer-meeting at her house every Friday evening, and for some five years past another every Sabbath afternoon, into which she gathered the poor neglected children of the neighborhood, and those adults who did not attend church anywhere. She always secured the aid of some good man to conduct these meetings. The results of these efforts were most happy. Tract distributors, city missionaries and others remarked that where Katy lived, the whole aspect of the neighborhood was changed. So much for the exertions of a poor colored woman, who could not read! "The liberal heart deviseth liberal things."
The secret of Katy's usefulness was her fervent, uniform, and consistent piety. No one could be with her, even for a little while, without feeling its influence. The love of God was shed abroad in her heart, and it found expression in acts of benevolence to his children.
The cause of missions was very dear to her. Three years and a half ago a company of missionaries were about to embark for West-Africa, under the direction of the American Missionary Association. One of the missionaries was invited to attend the little meetings held at Katy's house, and did so once or twice before leaving the country. Katy's sympathies were at once strongly enlisted in behalf of this young missionary and all his associates. A few months since, the writer met her in the street, and she eagerly inquired about the Mendi Mission. "For these three years," said she, "I have never missed a day but I have prayed for those dear missionaries."
Katy mourned over the condition of the poor people in the city, who were suffering on account of their vices as well as their poverty. She said: "The ruination of both white and colored people, in this city, is gambling. I told one of them, that I would never do it; that I had rather live on bread and water."
On Tuesday morning, having been for several days somewhat indisposed, she went out to see a physician. She soon returned to her house and lay down, but grew rapidly worse. In a few hours, it became apparent that her disease was cholera, and she was sensible that the hour of dissolution was at hand. Notwithstanding the suddenness of the summons, she was ready. Her mind was calm and clear. "Oh!" said she to a friend who stood near, "what a good thing it is to have a hope in Jesus!" Her last words were: "All is well." Yes, sainted spirit, "all is well."
Document Notes
1. In the author's previous version of this obituary, in the New York Daily Tribune, July 20, 1854, p. 6, he gives Ferguson's age as "about seventy-five." [return to text]

2. In his journal Tappan marked this word with an x and noted in the bottom margin "Dr M. was then rather a young man." [return to text]

3. In the Tribune account the address was given as 52 Warren Street. [return to text]
---
Copyright © 2006 The Trustees of Amherst College and
African-American Religion: A Documentary History Project
Amherst College #2269, P. O. Box 5000
Amherst, MA 01002–5000
aardoc@amherst.edu

Home | About the Project | Advice for Beginners | Volumes | Atlantic World | Continental Phase | Global Phase | Sample Documents | Research Resources | Teaching Resources | Special Features | Feedback | Related Sites | Amherst College